October GMM - Wednesday October 12th
It is important that you accurately register whether you will be attending in Person or via Zoom so Arrangements has an accurate headcount for dinner
Thrift Shop Social - Prior to the GMM
Come join the thrift shop committee for a special member only shopping experience in the Thrift Shop starting at 6:30pm prior to the start of the October GMM! While shopping enjoy some light refreshments and sign up for volunteer hours and drop off your donations as well.
If you would like a reimbursement check cut and mailed please submit an expense form to
Finance@JLLI.org
Expense Reimbursement Forms can be found on Digital Cheetah under
Finance Resources
Budget Amendments are Due to Finance
by October 31st
Would you be interested in helping make a Reel for the Fundraiser? and one for the Thrift Shop?!
If so we have some great inspiration from
Junior League of Charleston SC
What we need is either 1 or both:
A video of you entering your house in plain clothes and leaving your house in a costume!!
and/or
If you are able to head up to the Thrift Shop; a video of you in plain clothes entering the Thrift Shop and exiting out of the Thrift Shop in a costume

even better if you can style one with clothes found in shop so we can post them as Thrift Shop Halloween Costume Finds as well!
Active Member Tickets are $60, you only need to log into Digital Cheetah first before heading to the Fundraiser page to gain access to them!


CLICK HERE TO PURCHASE
Thrift Shop Volunteer Hours!

Active Members are required to fulfill a minimum of 5 hours volunteering in our Thrift Shop!

There are many great opportunities now that we are reopened to get those hours completed!

Help: Price Items, Monitor the Fitting Rooms, Learn and (Wo)man the Register,
Accept Donations, Sort Donations, and So Much More!!
Our Thrift Shop Has been Nominated in the Thrift/Consignment Store Category!

You are allowed one vote per person per day so please
CLICK HERE
and vote daily for our beloved Thrift Shop!
*Voting ends December 15th!
This November we will return, in person, to the Ronald McDonald House to cook dinner for the families in residence. We look forward to being able to spend time together as volunteers for the first time in two years and to supporting these families whose children are being cared for at the Ronald McDonald House.
On Saturday September 24th the Junior League of Long Island in partnership with Allied Foundation handed out over 9,200 diapers for families on Long Island! As an organization we exceeded our original goal of 2,000 diapers all thanks to our amazing volunteers, partners, Thrift Shop and community. It was an honor to support families who struggle to afford a sufficient supply of diapers and to bring awareness to diaper need across Long Island. We want to thank Allied Foundation's Executive Director Heather Edwards for all her hard work in promoting diaper insecurity and for partnering with The Junior League of Long Island for such a worthy cause.
The Junior League of Long Island was proud to join the Allied Foundation Diaper Bank in Mineola on September 23rd to kick-off Diaper Need Awareness Week in Nassau County; where Allied Foundation received a Proclamation from County Executive Bruce Blakeman. ⁠
⁠
The Dome of the Legislature in Nassau County was lit Red that night to spread awareness for this need!⁠
You can reach out to
DIAD@jlli.org
with any questions as well.⁠
Beloved Junior League member Alicia Aguilera passed away on March 26, 2021. She was an important and special part of our organization and she is deeply missed. The outpouring of generosity in memory of Alicia was overwhelming. The League received over 300 gifts totaling more than $26,000 in memory of Alicia, a testament to how many lives she touched and the incredible impact she made. Donations in her honor will help JLLI continue her legacy of volunteerism and community service on Long Island through a room dedicated in her honor and loving memory at the Ronald McDonald House!

On September 29th, member's Cindy Dwyer, Donna Fiore, Remi Farnan, and Christina Ho along with Alicia's family were able to view the now opened room.

We look forward to hosting an event in this room in the Spring of the League year and for helping children in our community for years to come here in her memory!
On Sunday September 18th, The Junior League of Long Island attended the Cow Harbor festival in the Village of Northport. With over 50 vendors, and an estimated 2000 plus people in attendance, this was a great way for Membership Development to kick off their networking efforts!
Promoted or changed jobs? Recently married? Started a family? Fulfilled a lifelong dream?
If you have some exciting news you would like to share with your fellow members email
Communications@JLLI.org
and
NominatingPlacement@jlli.org
to keep us in the loop and be featured in our eNewsletter and maybe more!
In partnership with many other volunteers across Long Island, Junior League Members Lisa Johnson and Remi Farnan helped the American Heart Association of Long Island set up their annual Heart Walk held at Jones Beach. We helped out with event set up throughout the park laying out the walking path, setting up booths tables, signage and Hydration Stations. The Heart Walk is attended by thousands of Long Islanders annually to raise support efforts to help expand access, funding and knowledge around cardiovascular diseases and healthier lifestyles.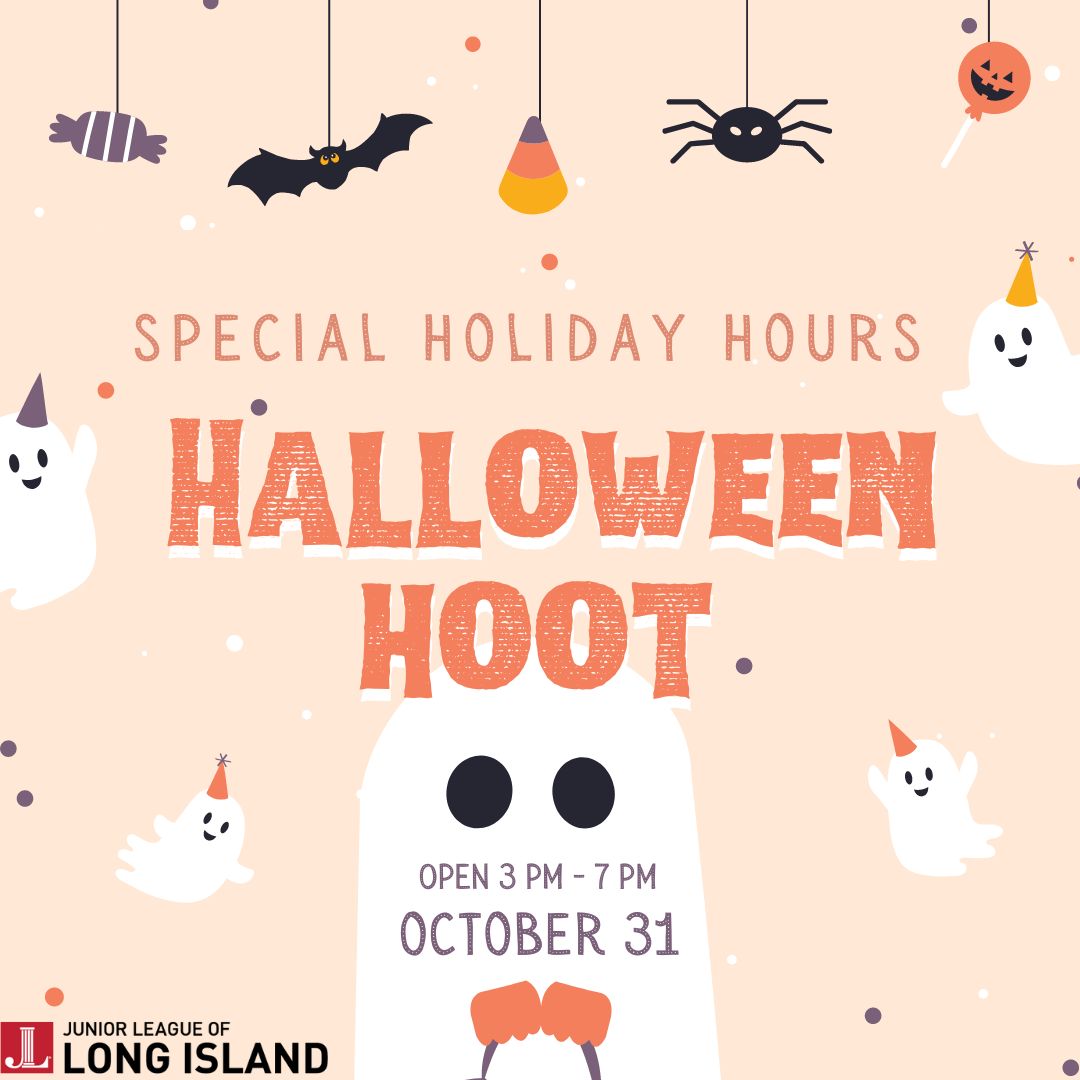 Roslyn Chamber of Commerce Halloween Hoot
The Thrift Shop will be open on Halloween for shopping along with all of Roslyn Village. We are in need of volunteers to work the sales floor as well as hand out candy for all the children trick or treating in costume.

Come in costume and help celebrate the holiday!
JLLI Thank You to Our Members
Please join us in thanking our members for all of their hard work during this past month!
Thank you so much Melissa Beyer, Cristine Bruno, Feiona Churaman, Janet Closs, Nicole Conrad, Emilie Doleshel, Erin Dorin, Cindy Dwyer, Susan Ellis, Remi Farnan, Donna Fiore, Hillary Garcia, Jennifer Grasso, Kerry Haddock, Loretta Hahn, Graciela Hall, Christina Ho, Lisa Johnson, Zina Kennedy, Tina LiRosi, Deidra Maleno, Christina Mangels, Lauren McBride (Singer), Elizabeth McCune, Meredith Nies, Diana O'Neill, Laura Petras, Tracy Pfaff, Stephanie Raduazzo, Shana Rocheleau, Carol Rodriguez, Morgan Rooney, Juliet Tenaglia, Jessica Torraca, Sandra Wilson,
Erica Vidal, and Joan Yonke!

You are all helping to make an Impact on
Long Island!
Wishing all of our members born in September a very happy birthday!
ACTIVES: Shana Rocheleau, Becky Guiliano, Nicole Conard (Serago), Remi Farnan, and Morgan Rooney, and Tina LiRosi

SUSTAINERS: Donna Mulligan, Christine Arella, Anne Droesch, Barbara Gifford, Janine E. Seifert, Deborah A. Ammarell, Patricia Olvany Hodson, Janice Rohlfing, Wendy Gillies, Kelly Morgano, and Anne L. Zohorsky
If you have a birthday in September and your name is not listed, please let us know by
emailing

info@jlli.org

.
DONATING TO THE JUNIOR LEAGUE OF LONG ISLAND IS EASY!
CALL: 516-484-0485
---
---
MAIL:
The Junior League of Long Island
Fund Development
1395 Old Northern Boulevard
Roslyn, NY 11576
DOUBLE OR TRIPLE YOUR GIFT
WITH A MATCH FROM YOUR EMPLOYER
Many employers offer a matching gift program to eligible employees. Even retired employees are many times eligible! If you or your spouse work for a matching gift company, your gift to JLLI may be doubled or tripled simply by completing a form that would be available from your employer.
Junior League of Long Island
1395 Old Northern Blvd., Roslyn NY 11576
(516) 484-0485 |
www.jlli.org