Welcome to the 15 November, 2022
edition of INDIA BULLETIN, presented by the Consulate General of India, Sydney
How evolving India-Australia ties can shape the future of the Indo-Pacific region

India and Australia are examples of important liberal democracies that are shaping the future of the Indo-Pacific region, based on their shared values for rules based on international order and a free and open Indo-Pacific.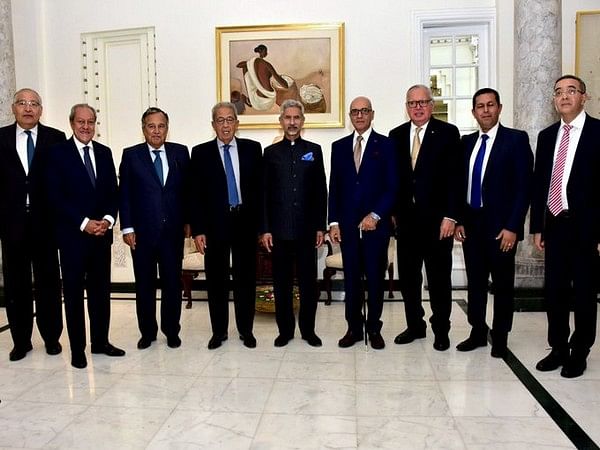 Mr.Jaishankar begins his first bilateral visit to Egypt
Cairo [Egypt], October 15. External Affairs Minister S Jaishankar began his visit to Egypt visit in the capital city of Cairo on Saturday where he met eminent personalities in the field of foreign policy.
Read more
Federal Budget 2022: $115.7 million for India Australia ties

Australia's intent to work more closely with India is evident in the funding allocated to the Department of Foreign Affairs and Trade (DFAT) to strengthen economic and strategic ties. The Government has provided $115.7 million to DFAT in its budget handed down yesterday 25 Oct, to invest in public sector linkages, community engagement, education, resources, connectivity, low emissions technology, business literacy, science, and technology cooperation with India..

Read more
India becoming major manufacturing hub: PM Modi

India will now become a major producer of transport aircraft, Prime Minister Narendra Modi said after laying the foundation stone of a manufacturing facility for C-295 medium transport plane for the Indian Air Force.



Read more
A picture of health: Aussie med-tech startup checks into India's post-COVID boom

Lockdowns, quarantines, and social distancing. There's no doubt the COVID-19 pandemic response transformed many aspects of our lives. None more so than the way we manage our health and connect with medical providers.
Read more
Geopolichips going nuclear: Why India needs to be a player in global semiconductor order

Semiconductors are fast acquiring political significance of the kind associated with nuclear technology in the 1970s-80s.

Read more
Tatas, Lockheed Martin in talks to make Sikorsky S-76 helicopters in India

The Tatas are in talks with Lockheed Martin for manufacturing Sikorsky S-76 helicopter in India, according to reports.

Read more
India's Minister of Road Transport and Highways Shri. Nitin Gadkari visits Australia to promote transport partnerships
CEO Rob McInerney was delighted to share iRAP and IndiaRAP success and the life-saving potential of safer road infrastructure investment with India's Union Minister of Road Transport and Highways Shri. Nitin Gadkari in Sydney
Read more
Hyundai sales in India on track to scale new highs

Hyundai Motor India reported a 55% increase in its net profit for FY22 at ₹2,862 crore as its operations normalised post the Covid-19 pandemic. This was the first time after two years that the company reported an increase in net profit, with demand surging in the local market.

Read more
Last-mile connectivity: Adani Group to invest in passenger vehicle fleet

The group will list the vehicles on ride-hailing platforms such as Uber in the cities where it operates airports.

Read more
India, UK working sincerely on free trade agreement: MEA

The issue of the FTA figured in the first telephonic conversation between the two prime ministers on October 27


Read more
Taiwan's India moment may lead to deeper manufacturing links

Taiwan has renewed its thrust to deepen manufacturing ties with India.This comes amid heightened tensions with China and a US-driven effort to look at alternatives to Beijing

Read more
India looks to strengthen ties with US with greater vigour: Nirmala Sitharaman

India deeply values its relationship with the United States as a trusted partner. We share a traditionally strong bilateral relationship underpinned with shared values, convergence of interests on wide ranging issues and vibrant people-to-people contact," Sitharaman said at the start of the Ninth Indo-US Financial Partnership. .

Read more
India Investment Grid: Click on the image above for
https://indiainvestmentgrid.gov.in/opportunities/nip-project/701366
Hon. Minister of Jal Shakti Shri Gajendra Singh Shekhawat met Ms. Tanya Jaon Plibersek Hon. Minister for the Environment and Water, Government of Australia, during his Australia visit from 4 to 8 October 2022..




Top left: SVCC,CGI Sydney organised Amrit Sandhya on 14th October 2022.Top right: Diwali Festival at Prince Alfred Square Parramatta,on 15th October 2022. Bottom Left: Indian Classical and folk-art performances at Australian Institute of Music, on 13th October 2022,Sydney. Bottom Right: Dr.Jayaprada Ramamurthy with local troupe




<![endif]-->
Australia's Sydney Opera House decked up on Diwali. Australian Prime Minister Anthony Albanese called Diwali "A season of reflection and renewal".


Check out the latest ediiton of
'INDIA PERSPECTIVES: THE FLAGSHIP MAGAZINE OF THE MINISTRY OF EXTERNAL AFFAIRS, GOVERNMENT OF INDIA'
by clicking on the image above.