Oct 31, 2018
Assess a Resume: Identify an Outstanding Candidate
Companies receive a lot of resumes, and a good number of them are discarded fairly early on in the hiring process. So, what element makes a resume stand out, allowing the applicant to move on to the next round of the hiring process? To ...
All Business
Are you a Multiplier or a Diminisher?
According to the book, Multipliers: How the Best Leaders Make Everyone Smarter by Liz Wiseman and Greg McKeown, various forms of leadership ...
People Matters
Hold a Meeting People Won't Dread
If you need to hold a meeting, be sure to make it one that doesn't have your team members impatiently eyeing the door. Meetings are some of the ...
Inc
5 Obstacles Women Face in Business
It's been about a year since the start of the #metoo movement, and unless you've been asleep in a cave, you've probably been aware that things are changing ...
All Business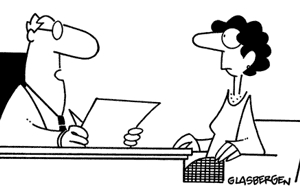 "You have been accused of cruel and abusive behavior. Is it true you made your staff sit through a PowerPoint presentation?"


Copyright © Randy Glasbergen
Trivia
What century-old product was originally promoted with the advertising slogan "You press the button--we do the rest"?
See the answer below.
What Year Was It?
Adventures of Sherlock Holmes Published
The Adventures of Sherlock Holmes, by Arthur Conan Doyle, is published. The book was the first collection of Holmes stories, which Conan Doyle had been publishing in magazines since 1887.
The day was Oct 31. What year was it?
Quote of the Week
"An organization, no matter how well designed, is only as good as the people who live and work in it."
Dee Hock
Trivia Answer
What century-old product was originally promoted with the advertising slogan "You press the button--we do the rest"?
Answer: The Kodak camera
SUBSCRIBE TO OUR NEWSLETTER
NEWSLETTER ARCHIVES