Oct 24, 2018
4 Things Hiring Managers Don't Want to See on Your Resume
Though the job market is pretty healthy these days, there's a lot of competition out there. One way to get a leg up, therefore, is to present an outstanding resume and knowing what mistakes to avoid will help in this regard. Here are ...
Fox Business
How to Deal with "Difficult People"
Three ways to work across deep divisions. For more insight, read "There's No Such Thing as Difficult People." Plan activities together, such as ...
Strategy + Business
Help Your Team Do More Without Burning Out
As we begin our coaching session, Nick is fired up. He radiates energy, his eyes are beaming with determination, and he never really comes to a ...
Harvard Business Review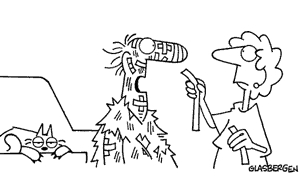 "Experts say that petting a cat is a good way to reduce stress ...but nobody told the cat!"


Copyright © Randy Glasbergen
Trivia
What principle states that 'in a hierarchy every employee tends to rise to his level of incompetence'?
See the answer below.
Extra Benefits of Attending Trade Shows
Being a small-scale business owner is hard work. You rarely get time to yourself, let alone spending time off to join conferences and trade shows ...
The Startup Magazine
What Year Was It?
Hostage Crisis in Moscow Theater
About 50 Chechen rebels storm a Moscow theater, taking up to 700 people hostage during a sold-out performance of a popular musical.
The day was Oct 23. What year was it?
Quote of the Week
"Sometimes when you innovate, you make mistakes. It is best to admit them quickly, and get on with improving your other innovations."
Steve Jobs
Trivia Answer
What principle states that 'in a hierarchy every employee tends to rise to his level of incompetence'?
Answer: Peter principle
SUBSCRIBE TO OUR NEWSLETTER
NEWSLETTER ARCHIVES