Nov 7, 2018
Make Sure Your Company Is Millennial-Friendly
A study by the Society for Human Resource Management reports that Millennials will comprise 50 percent of the work force by 2020. With only two short years to prepare, you'll need to rethink your recruiting processes to ensure your ...
Inc.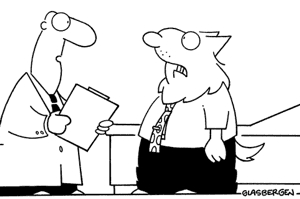 "It could be the full moon that turns you into a werewolf or it might just be a stress management issue."


Copyright © Randy Glasbergen
Trivia
For whom was the Mercedes automobile named?
See the answer below.
What Year Was It?
Magic Johnson Announcement
Basketball legend Earvin "Magic" Johnson stuns the world by announcing his sudden retirement after testing positive for HIV.
The day was Nov 7. What year was it?
Quote of the Week
"We're all working together; that's the secret."
Sam Walton
Trivia Answer
For whom was the Mercedes automobile named?
Answer: Mercedes Daimler, the daughter of German automaker Gottlieb Daimler.
SUBSCRIBE TO OUR NEWSLETTER
NEWSLETTER ARCHIVES