Hyatt Centric
Eclectic Monumental Staircase...
Hello <<First Name>>
The Hyatt Centric located in Charlotte, North Carolina, recently celebrated its grand opening, in the SouthPark retail and business district.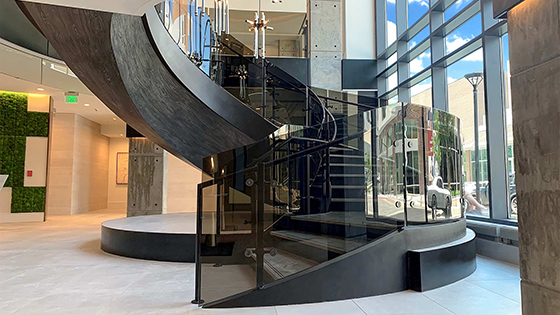 Photos: C.M. Steel
The 175-room hotel's modern architecture and interiors, designed by Atlanta-based Rule Joy Trammell + Rubio, reflect the rich history and beautiful landscapes of the Charlotte region. The all-natural design features an earthy color palette of green, blue, and gold, interwoven with natural elements such as stone, wood, metal, and water.
"When the Architect and Design team connected CM Steel Specialty Products Division to be a part of the Hyatt project we had one glass manufacturer in mind that we wanted on this project, Glasshape. The laminated Bronze glass that we received was immaculate. All edges were smooth, no running of the interlayer, and perfectly produced with such precision. This project is a statement for how all glass railings need to look."


Matthew Durant
C.M. Steel
Guests are greeted in the main lobby by a dark wood monumental staircase, which symbolizes a giant tree spiraling up through the space. C.M. Steel were tasked with constructing and installing the eclectic monumental staircase and once again chose to partner with Glasshape to produce and supply the ½" tempered, bent and laminated, bronze tinted glass.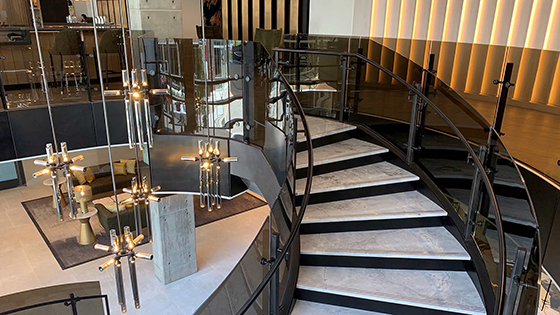 Hyatt's Centric brand celebrates the distinct identity and vibrant culture of each Hotel's location, featuring "artistically curated" spaces that are thoughtfully designed to help guests work, relax, and play.
Completed Architectural Bent Glass Projects
Glasshape has an ever growing list of completed Architectural Bent Glass Projects across the USA. Click on the image below to view an interactive Map, detailing the number of Projects completed in the respective States, along with some of our Case Studies, which are highlighted with a RED STAR.
Virtual Reality - Design Reviews
Glasshape has always looked for and invested in new technologies that help to improve the products we manufacture and the service we deliver.

Virtual Reality technology has now been added to our Design Review process, to aid in communicating with our customers, to ensure we understand design intent and to help eliminate any issues, before it comes time to manufacture.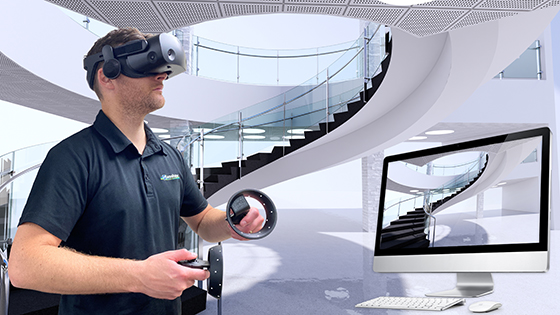 Good communication throughout a project is considered by Glasshape to be essential in ensuring we deliver on our promises and Virtual Reality adds a new dimension to our design services.
Digital Measuring Service
If you would rather not measure your own Curved Glass, then Glasshape offers an On-Site Digital Measuring Service to help take the worry out of this process.

You can find out more about this service by clicking on the link below to view and download our Design & Site Measure Brochure, or by contacting one of our Sales Team who will be only too happy to help you out.

Laser Scanning Technology utilized early on in the Building Process to capture Point Cloud Data
Design Inspiration
Visit our collection of past Projects to Discover what's Possible
The following photos are a small selection of Projects that Glasshape has successfully delivered over the course of time; which demonstrate what is possible in Bent Glass. Hopefully they inspire you to realise your next architectural masterpiece.
Make a Statement...
Inspired to explore and realise your ideas in Bent Glass... then we would love to hear from you.
CONTACT US:
Glasshape 65 - 67 Woodcocks Road Warkworth Auckland, 0910 New Zealand
Tel: +64-9-422-2565
Email: info@glasshape.com
Copyright © 2021 Glasshape, All rights reserved.
You are receiving this email because you have either previously engaged with Glasshape or you have shown an interest in our Products and Services. If you don't want to receive updates, then please unsubscribe.
Want to change how you receive these emails?
You can

update your preferences

or

unsubscribe from this list

.