Your Monthly
---VOTER---
February 2022
February is Youth Voter Month! While the League of Women Voters focuses on youth voter registration all year round, February is the designated month to call attention to this important area. Did you know that in Michigan, teenage residents who are U.S. citizens and at least 17.5 years old can pre-register to vote and then automatically become active voters once they turn 18? LWV has observed over the years that if we can work with youth early on to register to vote, and provide them with the necessary tools and information, these youth voters will become lifelong voters.
We are working on two great programs to engage youth and encourage them to register to vote. The first program is the MI Vote Matters High School Challenge, which was launched by Secretary of State Jocelyn Benson, along with nonpartisan partners including the League of Women Voters. The MI Vote Matters High School Voter Registration Challenge encourages high schools across Michigan to help connect students with their right to vote through civic education and nonpartisan voter registration drives. Through this friendly competition, the school with the highest voter registration rate will earn recognition from the Secretary of State. In many cases, the League of Women Voters will be providing support for these voter registration drives, as well as voter education to students.
The second program is an effort being led by LWVUS to encourage youth voter registration throughout the country. Through this program we applied for and were awarded a grant that will help fund our youth voter registration efforts. The grant will help defray the costs associated with production of our voter registration and education materials.
We are excited to have both of these programs in place currently to help support our youth voter registration and education efforts here locally. As you will recall, in the last several issues of The Voter, we have asked members for their assistance connecting with teachers, principals, or other school employees that they may know to advocate for working with LWV to provide voter registration and education to students within schools across the Greater Grand Rapids Area. Many of you have stepped forward with contact information and personal connections within several schools throughout the area. Thank you! We appreciate all of the information. Please keep the leads coming.
If you are interested in working on our youth voter registration and education efforts, please contact Teri Chaplin at chaplin.teri@yahoo.com to find out about volunteer opportunities that are available in this important area. We have a great group of volunteers already working on youth voter registration and they would love to have you join them.
I will leave you with these 80's lyrics from Whitney Houston which sum up my thoughts on youth voter registration: "I believe the children are our future. Teach them well and let them lead the way."

In League,

Courtney
We're excited to introduce new LWVGGRA members in this section, celebrate membership anniversaries, and share other updates about membership.
Please join us in welcoming new members Dorothy Munson and Richard Thrush. They are already very involved with voter registration efforts in the Grand Rapids area. Welcome!
Our goal is to help keep our members informed of the latest issues regarding voting and voting rights. Check this section monthly for important updates.
Know Your Voting Rights! Voting rights have been a core focus for the League of Women Voters since the inception of the organization over 100 years ago. Find out about your rights as a voter in Michigan here: https://lwvmi.org/voting-rights-defending-democracy/
League of Women Voters of Michigan, voting rights advocates, to file lawsuit against MICRC
Group calls for partisan fairness in redistricting process

LANSING – The League of Women Voters of Michigan, along with a coalition of voting rights advocates, today called for partisan fairness in Michigan's redistricting process.

The coalition discussed its goals and announced that it is filing legal action to ensure that the State House map is fair from a partisan perspective.

"Unfair, biased maps run counter to what voters demanded when they voted in favor of Proposal 2 in 2018 and established the Independent Citizens Redistricting Commission," said Christina Schlitt, co-president of the League of Women Voters of Michigan. "The approved House map obviously shows partisan bias based on the Commission's own analysis and should be replaced with a fairer map."

The League of Women Voters of Michigan was heavily involved in the redistricting process, engaging in educational outreach and helping ensure every Michigan voter had a voice. Last spring, local Leagues hosted over 30 town halls to educate voters about the MICRC, and in the fall the Michigan League hosted eight regional town halls to discuss the proposed maps. The League also offered training on Communities of Interest.

"For the past 10 years, partisan gerrymandering has stripped rights from voters and prevented their fair representation in the U.S. Congress and Michigan Legislature," said Susan Smith, vice president of the League of Women Voters of Michigan. "Partisan fairness measures must be as close to zero as possible because these maps will influence our elections for the next decade."

Speakers at the press conference also included those from Asian & Pacific Islander American Vote – Michigan and Detroit Action. The coalition's lawsuit that includes other plaintiffs will be filed in the Michigan Supreme Court next week.

View a recording of the press conference here.

###

The League of Women Voters of Michigan is the state league for the U.S. League of Women Voters, which is a nonpartisan political organization that aims to encourage informed and active participation in government, works to increase understanding of major public policy issues and influences public policy through education and advocacy. Learn more at lwvmi.org.
Advocacy & Current Projects
The League is always busy! We'll keep you informed of current activities and advocacy work here.
Great Lakes Advocacy

Below, find links to articles to help you stay informed on Great Lakes related issues. If you find current news related to LWVGGRA's advocacy efforts that you would like to share with fellow members, please reply to this email for possible inclusion in an upcoming newsletter.


MI Environment - Multiagency Buffalo Reef Task Force advances research goals, prepares for winter on Keweenaw Peninsula (michigan.gov)

Animal Check: New project to monitor aquatic species that live near proposed nuclear storage sites – Great Lakes Now
There's never been a better time to get involved! Read on to learn how you can help support the League's mission of Empowering Voters and Defending Democracy. Thank you for your support!
MI Vote Matters High School Challenge

Our unit's kick-off for registering high school students in support of the Secretary of State's challenge will occur mid February. The unit is still looking for volunteers to contact high schools. If you can help, you will be provided with training material and be invited to the kick-off meeting. Sign up here.

Future Volunteer Opportunities

LWVGGRA takes "Defending Democracy" seriously. We want to be able to assure the public that elections are fair and secure. We plan on attending voting machine testing in all Kent County jurisdictions for the August primary election and the November general election. Testing occurs 4-6 weeks ahead of the election. Look for further information on dates.

In addition, our unit plans to attend the Kent County Election Canvas after the November election. These occur generally in December following an election. More information will be provided after the November election.
In this section, you'll find interviews highlighting League members, elected or appointed officials, and nonpartisan partners. Do you know of someone who should be featured here? Reply to this email with your ideas!
Meet Courtney Winell, Chair of the League of Women Voters of the Greater Grand Rapids Area!

Courtney's steady leadership has significantly contributed to our success as we have grown from a small geographic unit under the wing of the LWV of Kalamazoo into the state unit now called the LWV of the GGRA. Applying for grants, attending Zoom LWV conferences and networking with community organizations around the greater GR area, Courtney has raised our profile and extended our reach through her quiet dedication and vision for our role in Making Democracy Work. Thank you, Courtney, for all that you do! Your friendly smile, professionalism, compassion, and hard work make our community a better place.

When did you join the LWV?

I joined LWV shortly after the 2016 Election. I had always been interested in politics and voting rights, and had served as an election worker for over a decade. I was searching for a way to become more involved and have an impact.

How did you learn about it and why did you decide to join?

I was looking for an organization to join and volunteer with after the 2016 election. As I was researching various organizations online, I found the League of Women Voters. The more I read about the organization, the more I felt it was a great fit for me. Not only did the League focus on voting rights, but they also work on many other issues that are important to me.

What roles have you held in the LWV?

When I joined LWV, the Grand Rapids group was operating as a Geographical Unit under the mentorship of the League of Women Voters of the Kalamazoo Area. As a representative of the Grand Rapids Geo Unit, I was appointed to serve on the LWVKA Board of Directors. In this capacity I would bring updates from our Grand Rapids meetings to the Board, as well as provide updates to our Grand Rapids members from LWVKA.

In 2021 the Grand Rapids Geographical Unit applied to be a State Unit under the governance of LWVMI. I assisted with this application process along with several other Grand Rapids members. Once we were approved as a state unit by LWVMI, we needed to select a governing Board of Directors. I am humbled and honored to have been selected to serve as the inaugural Chair of this new iteration of the League of Women Voters of the Greater Grand Rapids Area.

What education do you have?

I attended Central Michigan University in Mt. Pleasant, Michigan and hold a Bachelor of Science degree in Elementary Education. In addition, I have triple minors in History, Psychology, and Mathematics.

What is your occupation? What job do you hold now?

Sometimes life takes an interesting turn. I am currently working in a field completely unrelated to education. I am the Vice President of a company that provides concierge programs to top tier luxury shopping centers throughout the country. Our footprint spans from New York to Hawaii. I have been with the company since 2004.

What have your inspirations been for your focus on our cause?

Most recently Stacey Abrams of Georgia has been an inspiration when it comes to voter registration. Her work over the years has been very inspiring. I had the opportunity to attend an event that she headlined. During this event she emphasized the fact that the strides that we have seen recently in Georgia in regard to voter registration didn't happen overnight. She and other grassroots volunteers have steadfastly been working at this for over a decade. At times I find myself wanting to do more and do it quickly. I then remind myself of her efforts that spanned over time and that each step forward is progress towards the goal. Persistence pays off over time.

This is a stressful time in our country with our democracy under attack and dealing with the pandemic. What are your outlets for this stress? (Hobbies? Chocolate? etc?)

With all that has been going on the last few years with Covid and the attacks on our democracy, sometimes I just need to unplug. I love to read! I also enjoy spending time with family and friends, especially my two nephews. It's fun to see the world through the eyes of these two. They are being raised to be kind and compassionate humans. They give me hope for the future during these uncertain times. Also, wine and sweets help with the stress.
Each month, we'll spotlight current League-relevant news from the City of Grand Rapids.
Participate in the creation of the next Grand Rapids Public Schools Strategic Plan

From the GRPS website: "We are looking for your feedback on potential plans identified by strategy teams for taking action on the areas community has identified as most important for improving our district. Please share your feedback on our proposed strategic initiatives. These are grouped under six strategic themes that form the framework for our plan. Select the strategic theme that interests you, and click on the corresponding link to access the input opportunity. You can provide feedback on as many strategic themes as you wish, offer as many thoughts as you would like, and then also rate the thoughts entered by others in our community. Your feedback will be used to refine these proposed initiatives and inform the implementation."

Find all 6 strategic themes and related surveys at https://www.grps.org/strategic-plan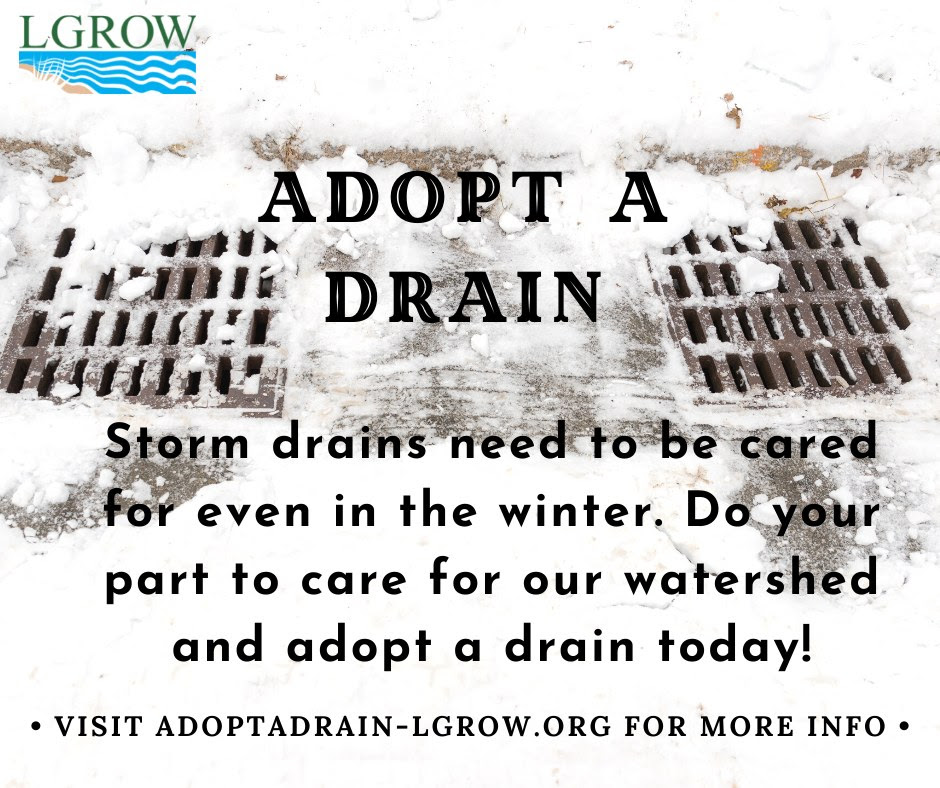 Have you adopted a drain yet? Join the thousands of drains that have already been adopted in the Lower Grand River Watershed and contribute to your community! Storm drains need to be cared for even in the winter. Do your part to care for our watershed and adopt a drain today! Learn more at www.lgrow.org/adopt-a-drain. #LGROW
Check this section for upcoming events, deadlines, and educational opportunities hosted by the League and our nonpartisan partners.
February

February 1: Black History Month begins
February 5: LWVGGRA Program Planning | 10 am-12 pm via Google Meet
February 7: LWVGGRA Monthly Board Meeting | 7 pm via Google Meet
February 13-19: Book Days at Schuler Books. During this week when you make a purchase at Schuler Books and mention that you are supporting LWV (or use web promo code LWVGR), 20% of your purchase goes to LWVGGRA.
February 14: League of Women Voters turns 102 years old. Celebrate by purchasing a book on Voting and/or women's suffrage at Schuler Books.
February 21: President's Day
February 27: Anniversary of US Supreme Court upholding the 19th Amendment
March

March 1: Women's History Month Begins
March 6: Anniversary of Bloody Sunday
March 8: International Women's Day
March 13: Daylight Savings Time Begins
March 14-20: Sunshine Week
March 26: Anniversary of SCOTUS Rucho Decision on Gerrymandering
March 31: International Transgender Day of Visibility
Once our new website is live, we will be able to accept online donations. For now, if you would like to donate, please send checks to the address below.
League of Women Voters GGRA
P.O. Box 174
6220 Belmont Ave NE
Belmont, MI 49306

Please note that the League is a 501c4 and donations are not tax-deductible. Thank you for your support!