Oct 30, 2019
Weed Out Applicants During the Hiring Process
In today's competitive hiring marketing, there are more open roles than available job seekers to fill them, making it more challenging than ever before to attract and hire qualified employees. So when an applicant comes along …
Inc.
How To Be A Great Public Speaker
On my way back from New York after emceeing the 2019 annual Ernesto Illy International Coffee Awards Gala at Lincoln Center, it occurred …
Forbes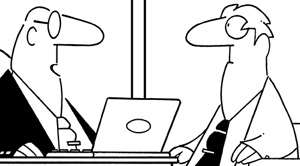 "Good news - our Kickstarter campaign has raised $2.13 toward your bonus."


Copyright © Randy Glasbergen
Trivia
The name of which company was initially proposed as 'Pequod' but the idea was retracted when someone said "No one's going to drink a cup of Pee-quod!"?
See the answer below.
Networking Doesn't Have to Be a Drag
If you hate networking events, it may be comforting to hear that experts don't think they're a great way to build strong …
Harvard Business Review
What Year Was It?
John Glenn Returns to Space
Nearly four decades after he became the first American to orbit the Earth, Senator John Hershel Glenn, Jr., is launched into space again as a payload specialist aboard the space shuttle Discovery.
The day was Oct 29. What year was it?
Quote of the Week
"Accomplishing the impossible means only the boss will add it to your regular duties."
Doug Larson
Trivia Answer
The name of which company was initially proposed as 'Pequod' but the idea was retracted when someone said "No one's going to drink a cup of Pee-quod!"?
Answer: Starbucks
SUBSCRIBE TO OUR NEWSLETTER
NEWSLETTER ARCHIVES