Jul 3, 2019
Reduce Personal Bias When Hiring
When it comes to hiring diverse candidates, good intentions do not necessarily lead to good results. I once met a talent acquisition leader at a large global technology company who had changed the organization's hiring process …
Harvard Business Review
2019 – The year of in-app advertising
As consumer behaviour shifts, brands are resigning expensive 'spray and pray' advertising methods to history to fully embrace a …
Digital Marketing Magazine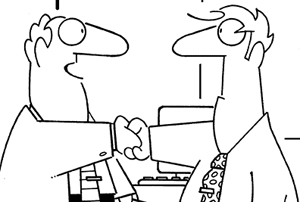 "I stopped to smell the roses. When I came back 15 minutes later, my company was bankrupt, my money was gone and all of my customers were suing me."


Copyright © Randy Glasbergen
Trivia
In a slogan that became popular in Costa Rica, it is claimed that which advertising character prefers that country's coffee implying his preference over Colombian coffee?
See the answer below.
What Year Was It?
Battle of Gettysburg Ends
On the third day of the Battle of Gettysburg, Confederate General Robert E. Lee's last attempt at breaking the Union line ends in disastrous failure, bringing the most decisive battle of the American Civil War to an end.
The day was Jul 3. What year was it?
Quote of the Week
"Why join the navy if you can be a pirate?"
Steve Jobs
Trivia Answer
In a slogan that became popular in Costa Rica, it is claimed that which advertising character prefers that country's coffee implying his preference over Colombian coffee?
Answer: Juan Valdez
SUBSCRIBE TO OUR NEWSLETTER
NEWSLETTER ARCHIVES